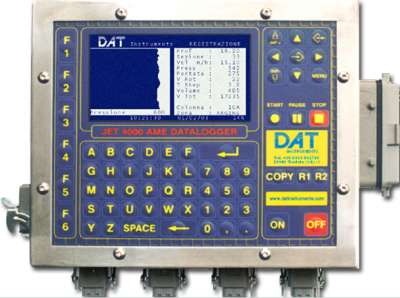 For all applications in which you have to record parameters in terms of depth, like jet grouting, DAT instruments can offer JET 4000 AME / J datalogger. JET 4000 AME / J datalogger is a high quality product, rich in functions and easy to use. The large number of dataloggers installed has completely satisfied our customers, because the system allows to obtain exhaustive working reports, deliverable to Contractors, without disturbing or increasing the work of operators.
Main features of JET 4000 AME / J datalogger are:
Measuring and recording of the following parameters (by appropriate sensors, both during drilling and withdrawal rod movement):


JET DEPTH, drill depth
JET FORCE, feed force
JET DEPTH, translation rod speed
JET TORQ, boring rod rotation torque
JET ROT, boring rod rotation speed
JET INCL XY, XY inclinometer

JET PRESS, grout cement or water pressure
JET PRESS, air pressure
JET FLOW, cement or water flow and volume
rod rise step time
injected column length
time of injection and duration

Display, directly on datalogger LCD, of recorded instantaneous and average parameters, of graphics in terms of depth and of summarizing data.
Automatic start of the equipment when starting recording, automatic stop when reaching required depth, automatic management of step time of rod ascent.
Automatic recognition of rod changing operation. Automatic recording suspension.
It is possible to print data immediately, by a thermal printer which can be linked to the datalogger.
Data downloading to PC in order to process, file, export and print exhaustive reports.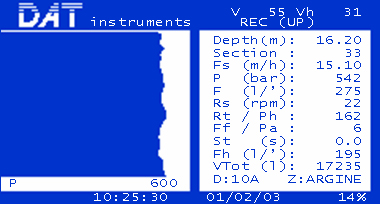 Recorded data are stored on three large internal memories.
Recorded data can be transferred to a Windows PC which has JET S 104 software installed. The software let you organize and elaborate data, draw graphics and tables and print them. It is also available a function to export data to Microsoft Excel.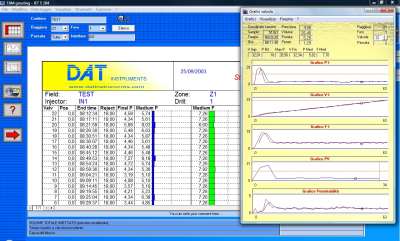 Otherwise you can use EDAT service: files are sent from jobsite via e-mail to DAT instruments online support team.
Parameters are numerically and graphically laid out in customized PDF files and sent back via e-mail to jobsite.

Sensors
Pictures
Share this with your friends: