The DAT instruments data logger for drilling and MWD, makes it possible to analyze the geomechanical characteristics of the soil, and measure and record a range of parameters in real time. Meanwhile, the depth based diagraph provides data of different stratigraphic soil levels.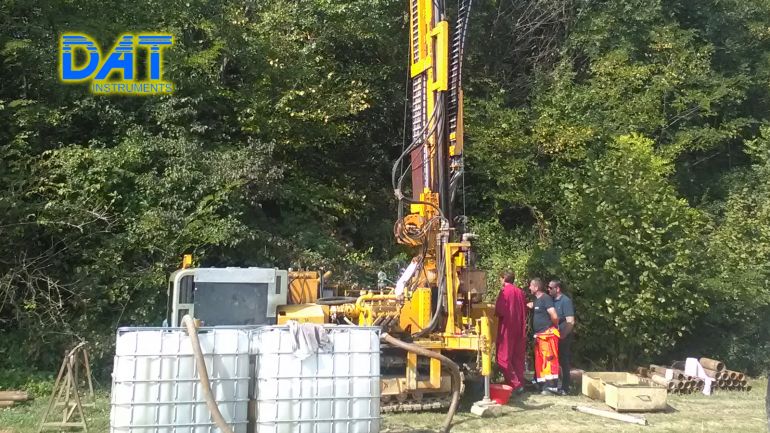 Data logger for Drilling, MWD
The DAT instruments datalogger for drilling and MWD can measure and display both instantaneous and average recorded parameters, which are displayed directly on the LCD monitor. Graphics for time and depth can also be displayed, alongside data summaries. Other available features include automatic start of the equipment once recording begins, and automatic stop once the required depth is reached. Finally, our dataloggers automatically recognise rod change procedures, and suspend recording during the process.
The following selectable parameters can be measured and recorded:
drill depth (JET DEPTH)
feed force (JET FORCE)
translation rod speed (JET DEPTH)
boring rod rotation torque (JET TORQ)
boring rod rotation speed (JET ROT)
X and Y mast inclination (JET INCL XY)
water pressure (JET PRESS)
water flow and volume (JET FLOW)
date and time of drilling and duration
soil relative energy
input for GPS receiver
Furthermore, it is possible to transfer data from datalogger to PC via USB pen-drives, WiFi, Ethernet and 3G/4G. DAT WideLog and DAT TinyLog can also directly export CSV files, compatible with Microsoft Excel or OpenOffice Calc.
Software for Drilling, MWD
Easy DAT is high-quality software which lets you organize and process data, produce and print graphics and tables. Subscriptions are available at three service levels (Base, Silver and Gold), according to your requirements. All DAT instruments data loggers can be managed via this simple application.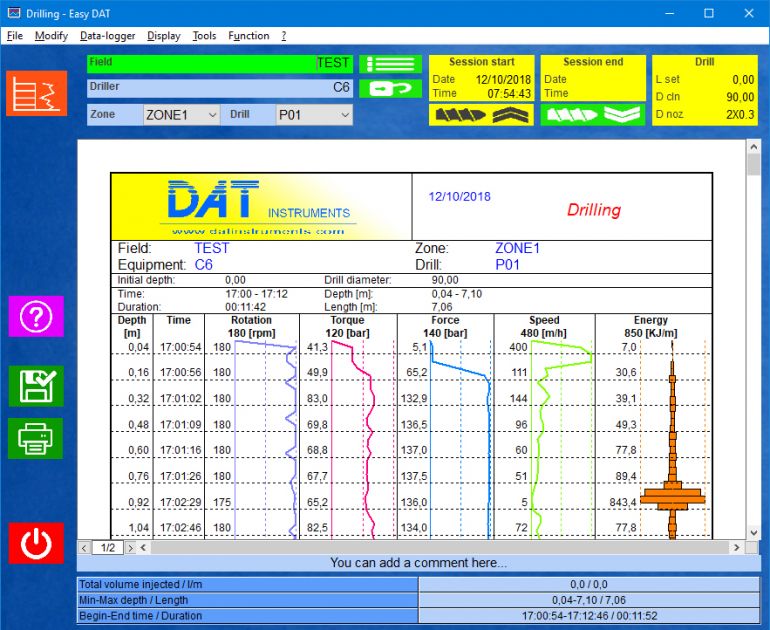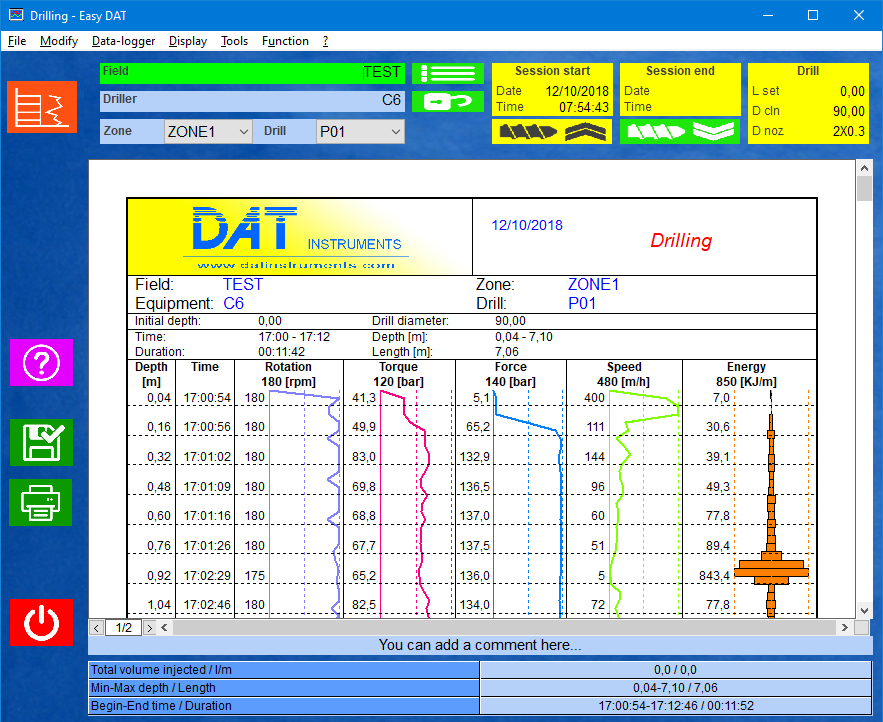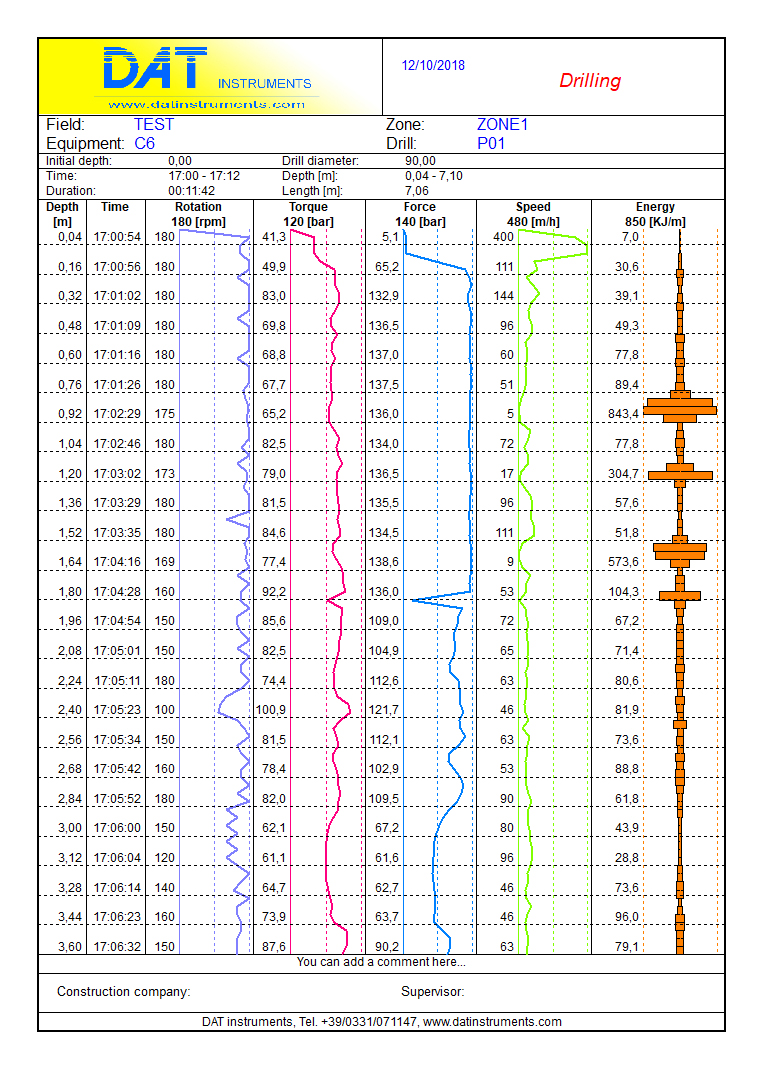 Datalogger automatisms, specifications, accessories and sensors will depend on the model chosen and can be customized according to the chosen product and customers' specific requirements.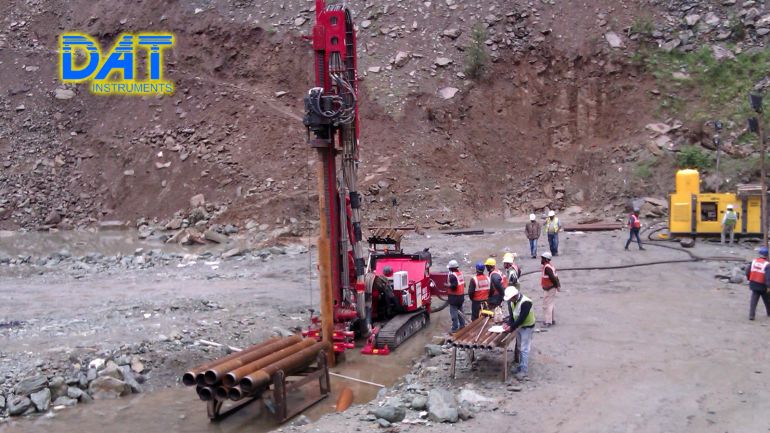 Share this with your friends: