Diaphragm walls must be carried out with all devices in order to obtain a proper work which follows project demand. Diaphragm wall verticality and rotation must be carried out carefully in order to grant impermeability to joints.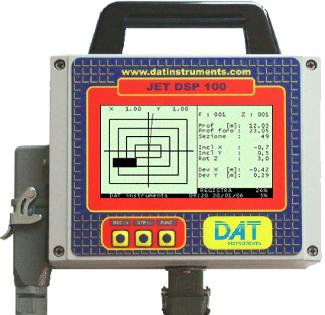 JET DSP 100 / D datalogger can display, on a wide monitor, and record, on an internal memory, the following parameters:
Depth (m, with 1 cm resolution)
Inclination on both X and Y axis to the vertical (with 0,1° resolution)
Grab rotation, Z axis (with 1° resolution)
X and Y axis deviation to the vertical (with 1cm resolution)
Data are acquired via sensors installed on digging equipment. Inclination sensor can be connected to the datalogger via a cable or via radio.
JET DSP 100 / D can record digging data in function of depth. During strokes necessary to create the diaphragm, each stroke data are recorded. Latest stroke data are also recorded to analyze the dig on the PC once in office. The datalogger can be set up via a PC. In this way, it is possible to calibrate sensors, set up data acquisition parameters and indicate fullscale graphic values.
Verticality and rotation displayed in real time.
DAT instruments provide a real time diaphragm wall datalogger, by offering a cabled inclinometer. Data are in real time on operator's display.
This solution is available for both mechanic grab and hydromills.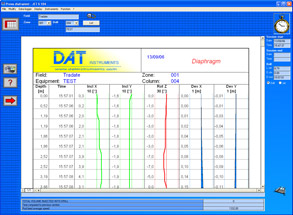 Share this with your friends: