DAT instruments dataloggers played a strategic role for the soil investigation undertaken during the foundation activities in the Crystal Towers construction site in Dbayeh, Lebanon.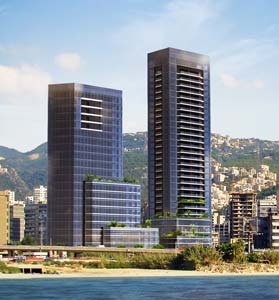 Crystal Towers are a Lebanese architectural masterpiece, with a 30 floors residential tower with large apartments between 170 and 255 square meters, and a 20 floors commercial building, with large panoramic offices (starting from 120 square meters) and many high level commercial areas. DAT instruments dataloggers have been used for real time measuring of the parameters with the purpose to understand soil characteristics. The diagraphy obtained as a function of depth, indeed, underlines the heights of the different stratigraphic levels of the analyzed ground.
"We use DAT instruments instrumentation and software – said Maha Saleh by Satcon, the company working in this construction site – to perform stratigraphic surveys in Crystal Towers project. Using the JET 4000 AME / J we are able to see the penetration rate through the different levels, monitoring torque pressure and feed force. Recording these data allows to know the presence of cavities, the depth of the rocks and, generally, the different levels. This geotechnical investigation led to a remarkable cost saving throughout the whole foundations and to an optimization of the piles length during the whole project". In order to visualize the rocky substrate and perform the working plan of the deep foundation piles, the geotechnical survey was divided into boreholes sections, all monitored by the data recording system. This allowed to see the depth of the rock and its penetration rate. The undeniable strengths of this system are the cost reduction and an extremely fast execution of piling, which helps meet the project deadlines.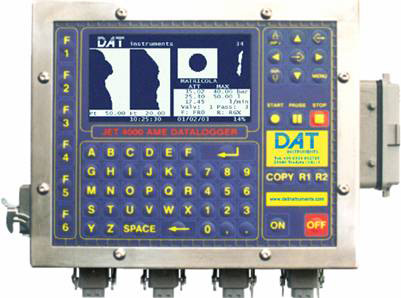 Combined with DAT instruments software, the JET 4000 AME / J datalogger allows real-time parameters display on the screen, as well as the average values, the graphs and the summary reports. It also automatically starts the drilling at the beginning of the recording session and it automatically stops the machine when the set depth is reached.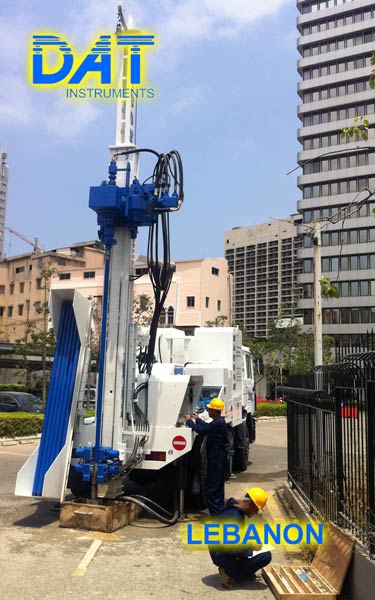 The system allows the data transferring on the PC to file, to elaborate graphs and to print the final reports. In facts, the JET 4000 AME / J allows to process the data of drill depth, feed force, rod speed translation, boring rod rotation torque and speed, the mast bi-axial inclination, fluid pressure, fluid flow and volume, ending with the soil relative energy.
DAT instruments equipment are very appreciated in Lebanon. "Another project where we used DAT instruments dataloggers – said Maha Saleh – is the Al Hoda residential complex in Saida: three middle-height blocks built on a slope. The foundation piles were subject to considerable stress. Also in this case, the Italian dataloggers have been strategic to define the initial depth of the piles, in view to optimize the execution of the entire project".
Share this with your friends: