DAT DR 1G / USB – USB 22 BIT ANALOG / DIGITAL CONVERTER FOR LOAD CELLS AND STRAIN GAUGES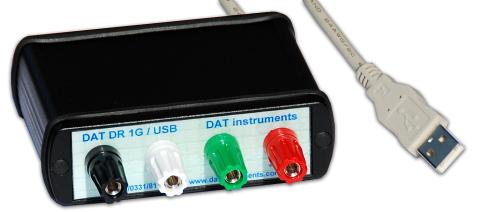 DAT DR 1G is an amplifier with a 22 bit analog to digital converter specific for load cells, strain gauges and sensors with Wheatstone bridge with mV/V output. It does not need external power supply. Input sockets let quickly connect the sensor. USB port let transfer acquired data directly to PC, without any additional adaptor.
Technical specifications :


Power supply


Directly supplied from PC USB port


Excitation voltage; Minimum load
impedance

5V; 75 Ohm


Nominal input range


2mV/V (f.s.), optional 4mV/V (f.s.)


Input amplifier


Differential, hi precision, low offset, low drift, low noise


Input conversion

22-bit ADc, 4.000.000 internal counts, > 200.000 effective
counts


Input conversion rate


Selectable: 1Hz, 2Hz, 4Hz, 8Hz


Output connector


USB, optional: RS232 TTL, RS485


Mechanical dimensions (mm)

105W x 35H x 80L (boccole escluse), USB cable length: 1500 mm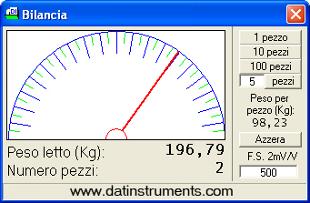 Applications for Windows PC given together with the board :
DAT DR 1G display software.
Measured weight display, tare resetting, piece counter function.
DLL for personal application development.
Instrument essential to create personalized applications in VB6 (VB example included).
USB driver.
Necessary to connect conversion board to desktop or notebook.
Share this with your friends: