Article publeshed on 'Scimag News', July 2018.
https://www.scimag.news/2018/07/16/dat-instruments-lopen-day-formazione/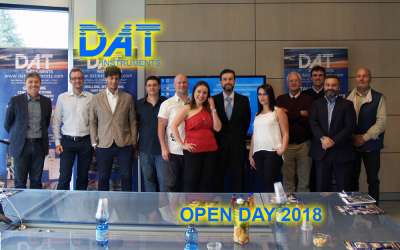 DAT instruments Open Day, which occurred on June 8th in its headquarters in Cairate, north of Italy, has underlined the latest creations of DAT instruments in the data loggers and software world for drilling, special foundations and geotechnical tests. This event let the Italian firm show how these instruments can really help the operators. Not only recording but also many other different functions present in the new DAT instruments products such as DAT WideLog and Easy DAT.
Experience, evolution and concreteness
"DAT instruments has been active on the data logger and software for geotechnical and special foundations market for 17 years. We carried out many installations in Italy and worldwide, even in the most remote locations and in the most arduous fields. In these years we have always worked thinking about future and innovation: for example, the new DAT WideLog data logger can send data from field directly to office displaying in real time carried out works. During our Open Day we had a Facebook Live webstreaming as we are really interested in social media trends. In addition to that, we focused on product usability, as sometimes there is no power supply or no Internet connection when we are in field! We are at Customer disposal with spare parts, after sale service and updates always available, even for old instruments". Amedeo Valoroso (DAT instruments founder and owner) speech is perfectly describing an up to date company that is always thinking about all needs of drilling fields. Needs that for DAT instruments become many opportunities to find solutions and to increase Customer service: from installation to technical assistance in field via telephone or via the Internet.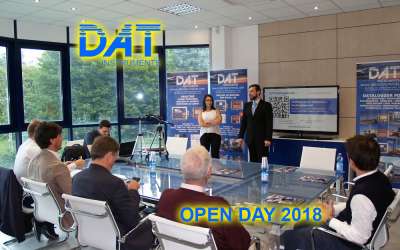 The Star
The Star of this Open Day has been the DAT WideLog, the latest creation of DAT instruments that is provided with a coloured touch screen monitor of 18,5" (41×23 cm) which shows many different graphics, numbers, gauges and everything is needed by the operator in order to drill or inject in the most precise manner as possible.
The full HD monitor is very resistant and can be used even while wearing gloves. It can display many different data at the same time with graphics that are the max, average and minimum value and pre-established value. The internal memory, almost infinite, records data that can be downloaded via USB pen drive or via Internet: DAT WideLog has both an Ethernet port and WiFi antenna. It is also possible to have a 3G-4G modem. While working, each drill data are transferred to the office in real time. Data can be displayed on any instrument such as PC, smartphone or tablet and files are compatible with Microsoft Excel and OpenOffice Calc. The new data logger can work even in field with saline soil, very high or very low temperatures, sand, water and in the worst adverse atmospheric conditions. The DAT WideLog is made of stainless steel and proper gaskets and IP68 connectors ensure water resistance. The DAT WideLog, according to different kit sensors, can be used in any application such as jet grouting, cement injections, TAM, drilling, DAC test, CFA, deep mixing, soil mixing, vibroflotation, dWalls, hydromill, Lugeon and Lefranc tests.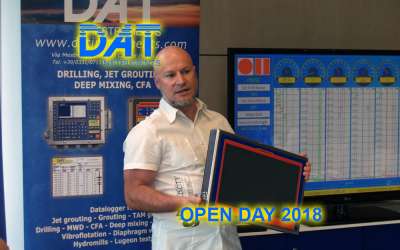 An unexpected world
During this Open Day many different questions to DAT instruments professionals have underlined that, for many drilling companies, the data logger world is something that must be discovered more and more. Instruments, software and technical support of DAT instruments are a real help for the company, the operator, the Client and the Supervisor. All these people have a real support from DAT instruments in order to make their work easier, more efficient, faster and certified. The possibility to certify the correct execution of a work is very important and it is demanded not only from Supervisors but from the company executing the work too in order to demonstrate that they work in a proper way. This is an additional card to play while contracting.
Share this with your friends: