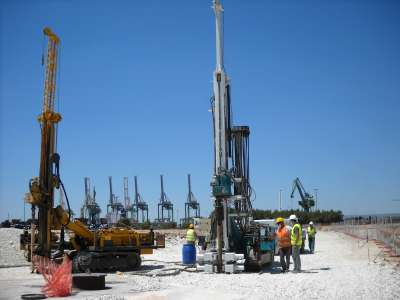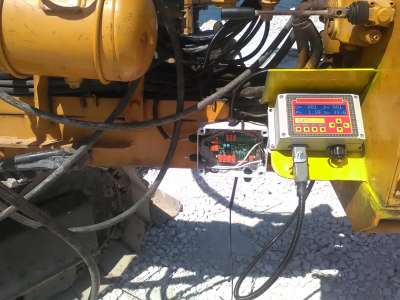 Published on Perforare n.3 2017
DAT instruments JET SDP / IB dataloggers on the field for an ordnance clearance.
When high performing instruments are needed, drilling companies ask for DAT instruments dataloggers. Two JET SDP / IB, installed on two drilling machines (a Casagrande C6 and an Atlas Copco Mustang), are working in the Taranto port.
The field
These two drilling machines are working in the former Yard-Belleli zone inside the multifunctional Taranto port and where, under the direction of Astaldi SpA, an ordnance clearance is carried out. This ordnance was connected to the presence of unexploded bombs and useful for the realization of diaphragm walls (dWalls) in order to stem pollution which in this zone is a huge problem. After these ordnance operations, a drainage of 15 mt in the seabed will be performed and a new quay (which is going to contain waste material) will be built.
dWalls
"Our two instruments", Daniele Dal Boni, specialized technician of DAT instruments, explains us "are installed on a Casagrande C6 and an Atlas Copco Mustang. These drilling rigs need to realize drills of 20-30 mt depth in which plastic pipes are going to be positioned in order to insert GPR (Ground Penetrating Radar) to find any possible explosive remnant. JET SDP / IB datalogger diagraphies will be useful to know if it is possible to realize dWalls and to decide which technology it is better to carry out. Engineers have two choices: CSM (Cutting Soil Mixing) or dWalls using the classic grab on the digging equipment. Obviously, as it is an ordnance clearance, CSM will be the best choice but it depends on ground conditions". DAT instruments datalogger, demanded by the Supervisors of the Works, gives the opportunity to know the real structure of the ground layer. In this case, it is fundamental as the work is carried out with not perfectly known materials.
A market recovery
Taranto field is part of an Italian market that, after some suffering years, is coming out of the crisis. This is the comment of Amedeo Valoroso, founder and owner of DAT instruments. "Italian field had a particular crisis in the last years. We noticed it as our products, in those years, were installed in a high percentage in export markets. In facts, DAT instruments dataloggers are designed for big public works and unfortunately in our Country, Italy, these works have been blocked for years. This situation caused bankruptcy for many Italian companies; this means loss of jobs and know how. Now, finally, there is an increase in maintenance and public works and we constantly receive demands from Italian companies.".
Now it is time to focus on the JET SDP / IB datalogger.
JET SDP / IB
Thanks to DAT instruments datalogger, it is possible to understand the geomechanical characteristics of soil measuring drilling parameters in real time. In particular, diagraphy in function of depth underlines the position of each stratigraphic level. JET SDP / IB let display, on datalogger LCD, instantaneous values in function of depth and data transfer to PC in order to file, export and print detailed reports.
JET DEPTH by DAT instruments
Via proper sensors, this instrument let measure and record the following selectable parameters:
drill depth (JET DEPTH)
feed force (JET FORCE)
translation rod speed (JET DEPTH)
boring rod rotation torque (JET TORQ)
boring rod rotation speed (JET ROT)
drilling fluid pressure (JET PRESS)
date and time of starting and finishing work, duration
soil related energy calculation.
For this kind of work, DAT instruments provides even the more sophisticated JET 4000 AME / J and the new DAT WideLog touch screen datalogger, both extendable with the following functions: jet grouting, soil mixing, CFA and vibroflotation.
Record, transfer, file
Amedeo Valoroso at Easy DAT presentation
Data acquired by the datalogger are recorded on the internal memories and can be transferred to PC with Easy DAT software via JET C USB cable, USB pendrive and even via WiFi Internet connection, Ethernet and 3G-4G. This software let organize data, process them, create graphics and print them. It is also available a function to export data to Microsoft Excel.
Share this with your friends: