Possible situations:
(1) The first Continuous Flight Auger pile was properly built using JET 4000 AME / J: The rotation speed and rod rise were set up correctly and the pump was able to provide the required concrete flow and pressure.
(2) The second Continuous Flight Auger pile has been badly built, severely compromising its bearing capacity: either the pump stopped at some level or the rod rise speed was too elevated, hence cement is missing. JET 4000 AME / J would have controlled the rod rise.
(3) The third Continuous Flight Auger pile was badly built, affecting the ROI: the cement injected was more than what the project required. JET 4000 AME / J would have prevented such waste.
Solution by DAT INSTRUMENTS:
JET 4000 AME / J datalogger: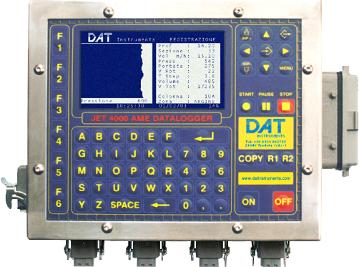 Controls the rig during the pile injection, by automating rod rise speed in relation to the project parameters;
Measures parameters such as depth, rod rise speed; pressure, flow and volume of concrete; torque while drilling; date, time and duration;
Provides detailed reports to document the work quality; reports are easy to access and to manage;
Can be set up with all the project specifications of the piles to be made.
NO NEED TO SET UP IN FIELD.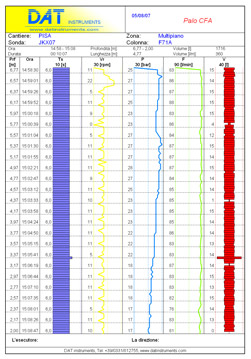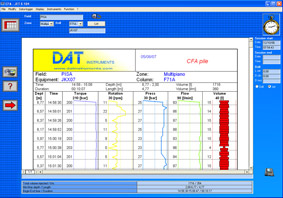 Share this with your friends: