DAT instruments at Geofluid 2016
GEOfluid 2016 Exhibition in Piacenza, Italy, will be held October 5th.
DAT instruments is pleased to invite our Customers to GeoFluid 2016 exhibition, stand 167, pavilion 1, 5th to 8th October 2016.
Among the brand new products presented, DAT instruments will show at Geofluid 2016 the new Easy DAT software. Easy DAT  can elaborate and file data about activities made by DAT instruments' dataloggers. It is possible to download data from datalogging systems, see them in digital and graphic format, customize layout, do different elaborations, export and file data. Easy DAT is very light, intuitive and it has an up-to-date and complete graphic interface. Easy DAT is compatible with Windows 10 operating system.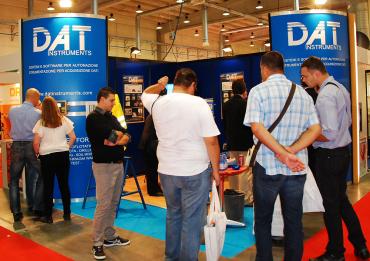 DAT instruments will show all solutions for: Jet grouting, Grouting, Cement injection, TAM grouting, Drilling, MWD, CFA, Deep mixing, Soil mixing, Vibroflotation, Diaphragm walls, Hydromill, Lugeon test and Mineral investigation. Automatisms present in DAT instruments' dataloggers are very appreciated by Construction Companies, Engineering Companies and Sub-Contractors: they guarantee and certify the quality of the executed job.
GeoFluid 2016, Stand 167, Pavillon 1 – Piacenza, Italy
Opening time:
05/10/2016 – 08/10/2016
From 9 a.m. to 6 p.m.
Saturday from 9 a.m. to 5 p.m.
Entrance: free entrance reserved to drilling, foundation works and geotechnical industry operators by registration on the show website or reception.